AMANDA LEHMANN
Vocalist/songwriter/guitarist
Amanda Lehmann SINGLE - ONE LAST SPIN (2022)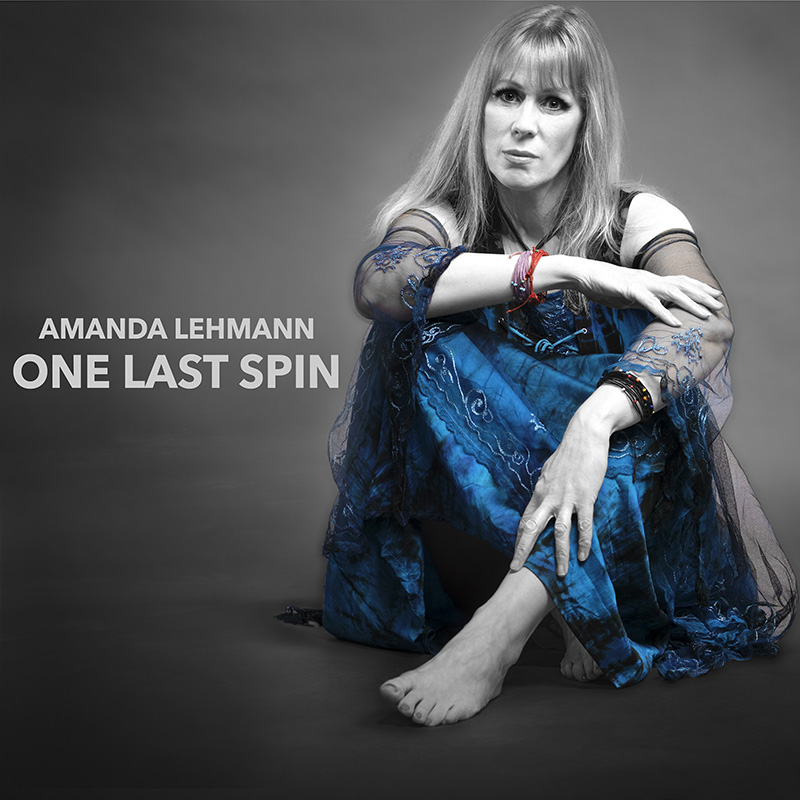 Amanda released her single ONE LAST SPIN on 22 March 2022. Amanda wrote the song to complement the film documentary also called "One Last Spin" to raise awareness of the issue of gambling harms.
It is available on STREAMING and DIGITAL, and can also be downloaded digitally on the WEBSTORE, or you can check it out on Amanda's You Tube channel
---
New solo album - INNOCENCE and ILLUSION (2021)
Innocence and Illusion is the new solo album by Amanda Lehmann... More information...
SINGLE: The Watcher
Official video for the single 'THE WATCHER' written and performed by Amanda Lehmann. From the new album INNOCENCE and ILLUSION.
TRAILER: Innocence and Illusion
Official teaser trailer for the new solo album INNOCENCE and ILLUSION.
Announcement: 16th July 2021:
After a musical career spanning over three decades (and known latterly for her musical involvement with Steve Hackett), singer/songwriter/guitarist Amanda Lehmann will release her debut solo album Innocence and Illusion. The album, which features 9 songs, sees a fusion of prog, rock, ballads, and elements of jazz-blues. Innocence and Illusion takes us on a journey through magical childhood worlds and hard-edged realities; emotionally touching us at every turn.
Amanda's haunting multi-layered vocals weave throughout the album, intertwining with her lead vocals which range from warm bluesy tones to rocky harder edged to choir-like pure notes.
Her trademark red guitars feature regularly with thematic lead lines, crunching power chords and delicately picked arpeggios, alongside more gentle acoustic treatments.
With the lyrics and music composed by Amanda Lehmann, she has welcomed the keyboard and engineering skills of Nick Magnus for seven of the songs, with Roger King on two tracks, and also featuring guest appearances by Rob Townsend on sax (tracks 3 & 5), and Steve Hackett (track 3 - harmonica; track 6 - lead guitar; track 9 - Acoustic guitar).
As well as Amanda's own keyboard and piano compositions appearing on several of the songs, Nick Magnus brings a wealth of inspired, majestic performances to the pieces with orchestral arrangements - such as the enchanting flying sequence instrumental in Tinkerbell, swooping synth solos (Who Are The Heroes?), dynamic rhythms and plenty of haunting Mellotron throughout. Roger King adds a beautiful string arrangement to Memory Lane and funky jazz band to Only Happy When It Rains along with lilting sax solos from Rob Townsend. Amanda and Steve Hackett go into twin guitars on Forever Days with some stellar lead work from Steve. Steve also brings the elegance of his nylon guitar into play on Where The Small Things Go and bluesy harmonica on Only Happy When It Rains.
Amanda comments: "I am incredibly proud of this album. There is a wide variety of music, all weaving around the central thread of life's journey; the twists and turns and all the stops along the way, the innocence, the illusions, the hopes and dreams, reflecting on what is, what was, what could be. These songs have been bursting to be heard, and I hope that they speak to everyone who listens to them."
"Innocence and Illusion
Childhood delusions
The man in the moon still follows me home"
SINGLE: Memory Lane
Official video for the single 'MEMORY LANE' written and performed by Amanda Lehmann. From the new album INNOCENCE and ILLUSION.
New solo album - INNOCENCE and ILLUSION - released on 20 August 2021!"
Order your copy now!
ORDER HERE!
INNOCENCE and ILLUSION TRACK ORDER
1. Who Are The Heroes? (6:58)
2. Tinkerbell (5:58)
3. Only Happy When It Rains (3:45)
4. The Watcher (7:25)
5. Memory Lane (4:49)
6. Forever Days (5:36)
7. We Are One (4:56)
8. Childhood Delusions (4:46)
9. Where The Small Things Go (1:42)
CONTACT:
TENACITY PR
Dave Hill
+44 (0) 7951 679 666

www.tenacitypr.co.uk